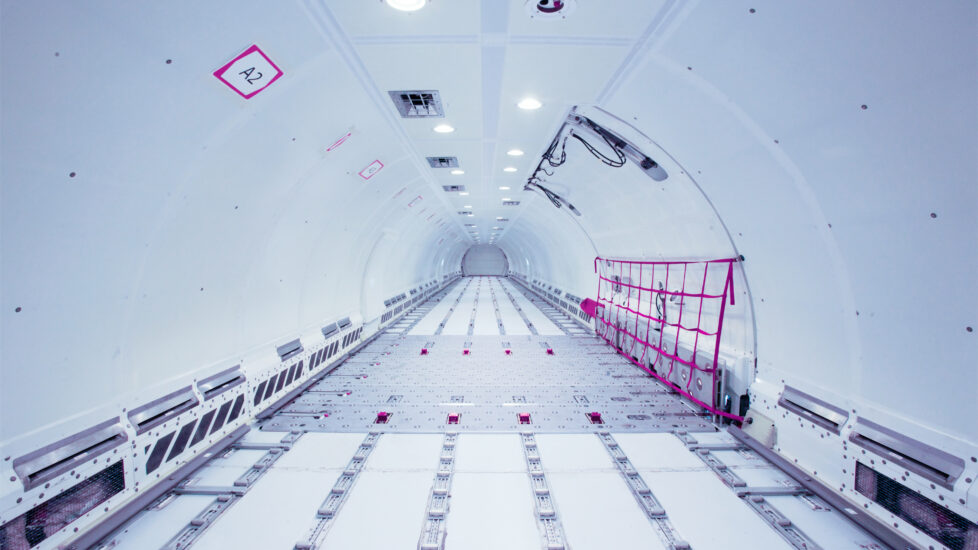 FAA issued STC for A321-200PCF Main Deck Cargo Loading System and Complete Floor Panel installation
April 28, Miesbach, Germany – Today TELAIR received the FAA Supplemental Type Certificates for the A321-200PCF Main Deck 1.25-INCH Main Deck Cargo Loading System and Complete Main Deck Floor Panel Installation.
The TELAIR A321PCF Main Deck Cargo Loading System is the most versatile and ultra-light weight system on narrow body freighters in the industry. This system offers future customers of the Precision converted A321PCF aircraft a wide variety of configuration options allowing maximum flexibility to expand their business opportunities. Telair has added the industry wide unique capability to load R-Code (16 ft.) pallets and offers transport capability for up to 14 A-Code, 13 M-Code as well as 16 B-Code Containers on the A321PCF.
TELAIR created a Cargo Loading System solution that saves time, weight, and money and delivers a total available containerized volume of 206m³.TELAIR'S innovative and high-quality mechanical components, guarantee longer durability of equipment resulting in significantly reduced maintenance costs. In addition, TELAIR provides their robust 3D-Floorpanels including innovative design features like integrated drain pans for the A321PCF.
"We are proud TELAIR's Cargo Loading System and Floor Panels are installed on the Precision Aircraft Solutions A321-200PCF Freighter, the conversion aircraft with the highest revenue payload and most customer-driven design features available", said President, Wolfgang Tatzer. "Many thanks also to all our employees who have supported this program during this unpreceded Global pandemic with their deep dedication throughout the design, production and STC processes for the Main Deck Cargo Loading System and the Composite Floor Panels".
With our extensive knowledge and highly engaged employees, we have developed a system that is characterized by superior quality and reliability. This is essential for us, and this is what we strive to provide.
TELAIR is honored to be part of the most capable A321PCF freighter conversion program.
For further information, please contact:
Bibiana Overlack, Business Unit Manager Airbus
Email: boverlack@telair.com; +49 8025 29-1501
Nadine Kirschenlohr, Marketing Manager
Email: nkirschenlohr@telair.com
Learn more about our portfolio
Take your cargo loading business to a new level. Explore our broad product portfolio and get in touch with our specialists. We are looking forward to advising you individually and to finding the perfect cargo solution for your requirements – from freighter conversion to modular cargo systems.