Boeing 747 lower deck cargo handling systems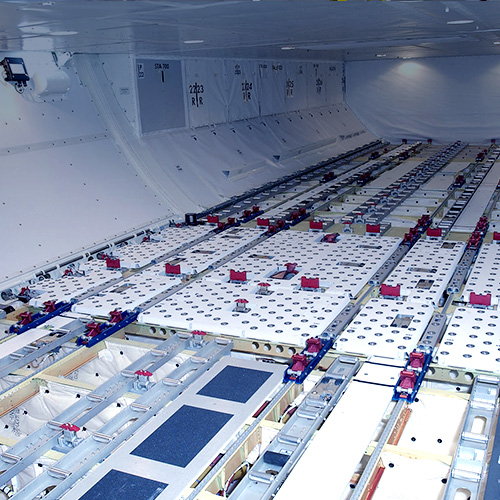 With over 400 systems in-service, the Telair 192100-series lower deck cargo systems have proved to be efficient and reliable.
The systems were introduced as a replacement for the original pulley/belt style tire-drive systems to safe weight, reduce maintenance cost and increase system performance. Customers can choose for either a drive system upgrade or a full lower deck retrofit that would amongst others provide improvements to the restraint system.
This concept led to standard installation of the systems on the Boeing 747-8 model aircraft.
Application
Boeing 747-400 – Lower Deck
Boeing 747-8 – Lower Deck
Availability
In production
STC available
Over 400 systems in-service
Design
Replacement of OEM tire drive system
One type Power Drive Unit (PDU) for entire aircraft
Tray or ball mat pan mounted PDU concept
Optimized PDU locations to ULD base
Wire bundle and control system upgrade
Self-lifting, self-retracting PDUs with optical sensor
Brake rollers for loader safety
Alternative full system upgrade with all restraints and guides
Walkway panels
Features
Up to 250 kg (540 lbs) weight savings
Highly reduced system maintenance cost
Automatic PDU shut-down under loaded ULD
Increased system performance
Reliable, proven hardware
Reduced maintenance cost
On-aircraft PDU roller replacement
Full continuous side guide rail at system perimeter
Spring lift centerline guides
Foot operated pallet locks
Freighter style door entry rollers