Boeing 747 main deck cargo handling systems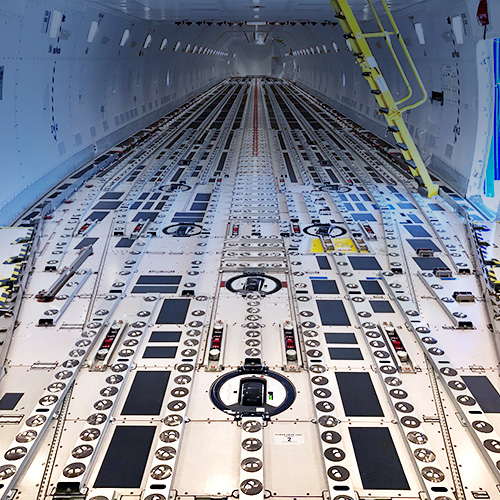 Telair's 193100-series cargo handling systems were the first systems to feature a tray mounted power drive unit design for main deck applications. Easy and cost-effective to install, operate and maintain.
Over time, the systems evolved from a pure drive system set-up to systems fully including all the mechanical support and restraint hardware as well as including an advanced control system. Leaving the cargo loading operation very similar to what the cargo loaders have been used to, behind the scenes the systems included CAN-bus data transfer to an on-board maintenance and trouble shooting display as well as a full digitally controlled system currently used on the Boeing 747-8F.
Improved cargo handling systems
Compared to the original systems used on the Boeing 747 platform, the system weight has significantly been reduced and component functionality improved. In addition, a variation of sub-systems can be added to ease operation, reduce aircraft downtime and improve serviceability of the system. This ranges from addition of equipment for special loading applications to the remote monitoring capability of the system.
Application
Boeing 747-400F – Main Deck
Boeing 747-400BCF – Main Deck
Boeing 747-8F – Main Deck
Availability
In production
STC available
SFE system for new production aircraft
BFE system for conversion of existing aircraft
Design
Complete main deck system

All mechanical components nose to tail
All power drive units
Complete cargo control system

Tray mounted, spring loaded PDU constant body section a/c
One type retractable / steerable PDU
Full digital control system on 747-8F
Cargo maintenance and control computer
Improved component design
Features
Up to 1.050 kg (2.300 lbs) weight savings compared to OEM system
Identical operation to the OEM system
Integrated component monitoring and display
Reduced system maintenance cost
Increased system performance
Quarter turn, quick connect installation where possible
On-aircraft PDU roller replacement
Optimized component functionality
Remote maintenance feature as option integrated
RFID ULD tracking capability optionally
Drive system only or full main deck system