Airbus A350XWB lower deck cargo loading system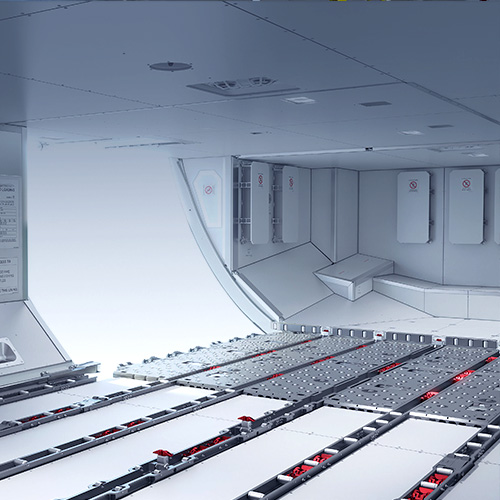 The 901100-series cargo loading systems are exclusively designed for use within the Airbus A350XWB lower deck cargo compartments.
The complete system is provided by Telair and contains all electrical and mechanical components. It is designed as a semi-automatic system to be used when the aircraft is on ground and which can be handled by one person. Electrically powered drive units transport the container or pallet through joystick controls to the desired parking positions and are manually locked in position.
Safety features are embedded in the system to protect the equipment and avoid loading personnel injuries.
Application
Airbus A350-900 – Lower Deck
Airbus A350-1000 – Lower Deck
Availability
In production
Standard SFE system
Design
7 roller tracks
Spring loaded PDU outside doorway area
Self lifting PDU in doorway area
Optimized PDU locations
Digital control system
High-density ball mats
Frameless restraints
New splitter-bumper design
Manual anti-roll-out latch with proximity sensor
Integrated braking swivel caster eliminates Valentin guide
Features
PDU over-current, over-temperature, overload protection
Spring loaded PDU with integrated brake
On-aircraft PDU roller replacement without PDU removal
Additional control panel in doorway ceiling area
Manual lateral guides
Improved cargo compartment drainage
Braking casters in doorway area to hold ULD in position
Over-rideable centerline restraints
Optional continuous side guide system