B767 Main Deck Cargo Loading System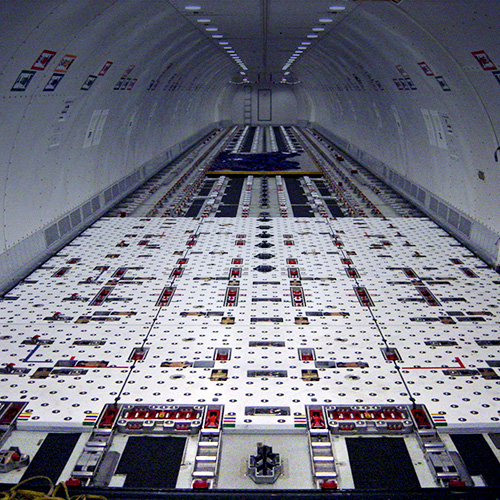 Whether it's for new production aircraft, conversions from passenger to freighter aircraft or for retrofits of existing aircraft, Telair is the only system provider with a full range of cargo loading systems for the Boeing 767 model aircraft.
Telair has been the supplier of the first lot of Boeing 767-300 conversions supported by Boeing under the 767-300BCF program. The systems set-up can vary from a system with practical capability of handling all commercial and military type of ULDs including 20 Ft pallets up to a dedicated package carrier layout providing the lowest weight system possible. Options are available for a fully powered system allowing one or two persons to fully handle the loading and unloading or manual systems.
Fast to install and high quality 767 cargo solutions
The systems are easy to install and require no scheduled maintenance. The high reliability of the components ensure a long on-aircraft life and reduced operational cost.
Options to include RFID traceability of ULDs, ULD temperature sensing and warning system and an on-board cargo communication system to provide technical status of the system to a ground station, are available.
All system will be provided with FAA STC approval and, if required, local authority approvals.
Availability
STC certified
Standard lead time 9 months
Design
Seat track / floor fitting mounted 2 inch high system
Quarter turn fastener installation for all components
Manual or fully powered system
ULD loading configuration options
Up to 5ea 16 Ft pallet positions and 4ea 20 Ft pallet positions
Engine pallet capability without need for strapping
Self-lifting PDUs within ball mat/doorway area
Braking PDUs installed outside doorway area
Control system with Master and Local control panels
Integrated 20 Ft control system
Cargo maintenance computer standard
Features
Reliable, proven hardware
High density ball mats
Braking casters in ball mat to avoid unwanted ULD movement
Foot operated pallet locks
Over rideable side guide and centerline restraints
Lock-down feature of all over rideable restraints
Continuous side guide rail at system perimeter
Extended ball mat area option
On-aircraft roller replacement for PDUs
Remote maintenance capability
RFID/ULD tracking capability