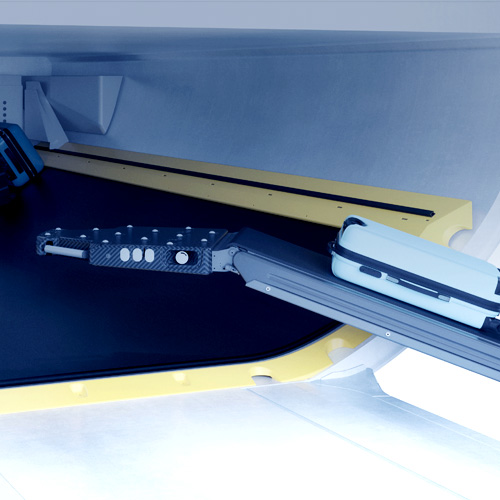 The RTT LONGREACH™ mechanized beltloader extension makes loading and unloading faster and safer. The RTT LONGREACH bolts onto any beltloader, easily guiding bags and small cargo onto the Sliding Carpet®. With the RTT LONGREACH:
There are no more heavy lifts and twists.
Each load positions in just one move.
It is simple, affordable, and robust.
Application
Adaptable to multiple belt loader types
Availability
Now
Leadtime 3 months
4 years warranty
Call for more information
On-site support during first installation
Design
Extension of belt loader
Moving belt with end platform
Lifts cargo / baggage on platform at required height
Avoids twisting of posture
Eliminates lifting of weight
Manually pulled in cargo compartment
Height and position adjustable end platform
Reduces back injury issues with loading personnel
No replacement requirement of current belt loaders
Electrically powered through belt loader
Also used for warehouse / ULD build-up applications
Features
Significant loading personnel health and safety benefits
More effective use of manpower
Reduction in the load / unload cycle time
Easy in use
Safe to use
Cost effective
Reduces damages to aircraft