Military pallet locking system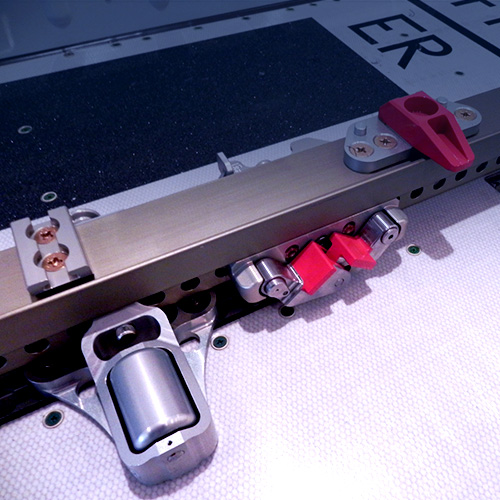 Transport of military pallets on commercial freighters requires the full relocation of restraint equipment to accommodate the different pallet sizes. This time consuming and logistical nightmare is no longer required with the Telair X-lock system.
Standard commercial pallets are locked in position with side, forward and aft restraints. This same practice is also used for military pallets being transported on commercial aircraft. 16Ft or larger pallets however are side locked only and do not use forward or aft restraints. This same principal is now also introduced by Telair for transport of military pallets.
Cargo loading innovation for military pallets
With the installation of so-called X-locks as integral part of the aircraft side guide system, the ability to only side lock military pallets is introduced. This no longer requires the relocation of equipment and an immediate transfer from a military charter to a commercial flight is possible.
During the loading/unloading operation, the patented X-locks are below conveyor plane and are only pushed up when a military pallet is in position.
The kit is standard installed as part of Telair P/N 193100-81 systems used on Boeing 747-8F aircraft and can be provided as add-on kit for Boeing 747-400 production and conversion freighters.
Availability
STC certified
Lead time 6 – 9 months
Design
Auxiliary side locks
Side restraint 108″ long military pallets
No requirement for forward – aft lock relocation
Locks become integrated part of side guide restraint rails
No modification of aircraft structure
Manual operation
Features
Easy transfer from military to commercial transport
Quicker turn-around times
Ability to restrain coupled military pallets (T2 and T3 trains)
Safe
No risk of loss / missing cargo equipment
No risk of improper component installation / damage
Very limited weight impact (25 kg / 54 lbs per a/c)