Remote maintenance and monitoring of cargo systems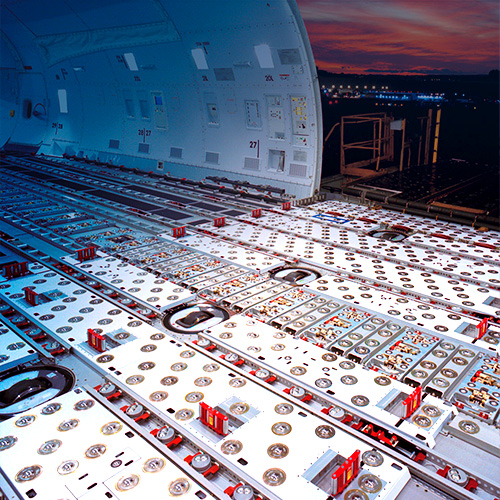 Cargo systems are used daily and play a key role in achieving revenue for airlines. On the maintenance side however, cargo systems are neglected. To ease fault detection and trouble shooting, Telair is already providing since 2003 an on-board visual display as part of the Telair systems to inform operators and maintenance personnel about the technical status of the connected equipment and provide alternate means of system use in case of failures. Despite this feature, loading personnel did reveal corrective actions often take weeks to be accomplished.
Top cargo systems by TELAIR
With the introduction of the Boeing 747-8F aircraft, standard equipped with Telair cargo systems, a cargo communication system has been introduced and recently certified. With use of a GSM module build into our equipment, as well as using a GPS locator, information is automatically transferred from the aircraft to a ground station as soon as ground power is applied to the aircraft. This enables Telair to monitor the system performance remotely, assist with troubleshooting, provide information to the airline on failing components and, if applicable, prepare and ship replacement components out to the airlines maintenance facility. The airline in the meantime, could schedule instructions, manpower, and parts to enable corrective action.
The system is integrated within the Telair cargo control system and does not interface with the aircraft's communication system.
New aircraft can be provided with this system, for existing aircraft, when equipped with the Telair Cargo Maintenance Computer (CMC), a retrofit is possible.
Similar equipment can be used for ground applications within cargo warehouses, at ULD docking stations, at pallet build-up areas, on ground handling equipment etc. to work with the Telair RFID ULD tracking system.
Application
All TELAIR main deck and lower deck cargo loading systems (CLS)
Pre-provisioned on following TELAIR aircraft CLS:

B747-400F/ERF/BCF (Main Deck & Lower Deck)
B747-8F (Main Deck & Lower Deck)
B747-8I (Lower Deck)
B767-300BCF (Main Deck)
B777F/BCF (Main Deck)
A350XWB (Lower Deck)
A330 / 340 (Lower Deck)
Availability
STC Certified (FAA & EASA)
Call for best price and replacement conditions
24/7/365 support
Service fee pending on support program
Design
Electronic collection of data from individual components
Early warning of potential operational issues
Integrated within aircraft cargo system control computer
GSM based communication
Integrated GPS locator
No modification of aircraft wiring
Operates only during ground mode
Features
Remote monitoring of cargo system
On-line status of components
Aircraft location, date and time of failure occurrence
Remote trouble shooting
Automatic spares and repairs planning
Improved serviceability of cargo system