Centerline restraint system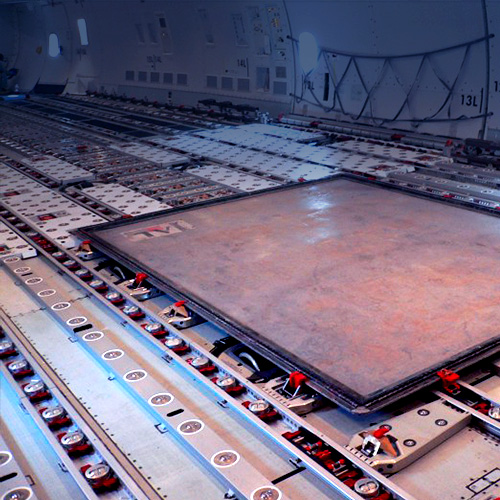 Heavy or outsized cargo that requires positioning at the centerline of the aircraft, is traditionally strapped to the aircraft floor. Strapping requires additional ground-time during the loading and unloading process and occupies as a minimum 50% more space.
The Telair designed Center Line Restraint (CLR) system provides guidance and restraint components that allow the positioning and restraint of 10 Ft, 16 Ft or 20Ft pallets on the centerline of the aircraft without the requirement to strap the load down.
The system utilizes available tie-down locations within the aircraft floor as well as available cargo system components to transfer loads up to 31.250 lbs for a 16 or 20Ft pallet.
During the loading/unloading operation, specific components are used to align the pallet perfectly at the centerline where guiding units manage the controlled movement forward or aft on the aircraft. At the pallet parking positions, side restraints lock the pallet in place.
The kit can be provided as add-on kit for Boeing 747-400 production and conversion freighters as well as for the Boeing 767-300 conversion aircraft.