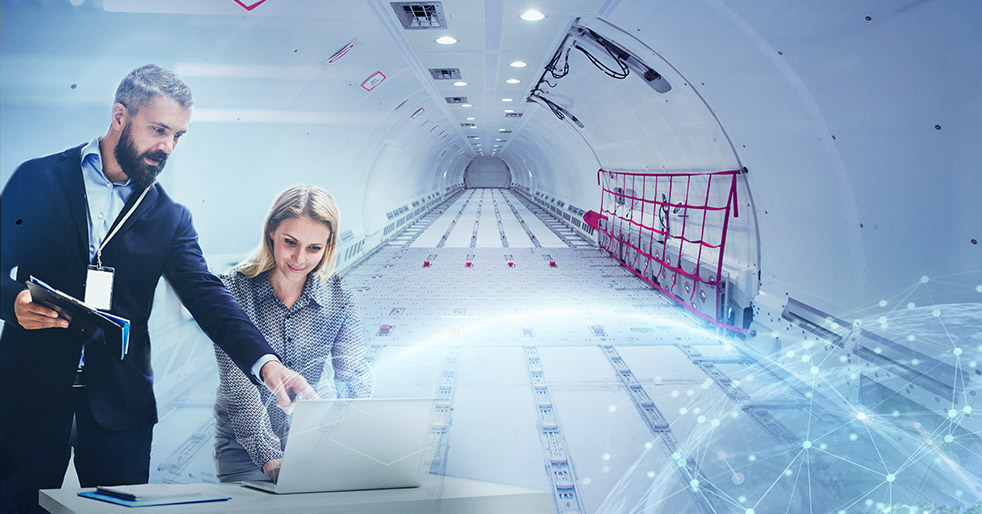 Aircraft cargo loading solutions –
the best for your business
In a world that is constantly changing, and customer needs become more demanding by the day goods have to be transported in the shortest time possible. Even when ordering products from the other side of the globe, customers are not willing to wait excessively long to receive them. The answer: air cargo. Aircraft cargo loading systems enable a fast delivery of goods. But as in every industry sustainability plays a big role in achieving success. Nowadays, air cargo and delivery is supposed to be quick, safe and sustainable at the same time. To ensure that, perfectly fit aircraft cargo loading systems are needed. Reliable, safe and easy to handle.
As a specialist for aircraft cargo loading, TELAIR develops innovative solutions to handle air cargo to transport goods internationally in order to connect the world. Our high-quality products are made for commercial wide-body and narrow-body aircraft and military applications. All of our aircraft cargo loading systems are custom-made and specifically designed and manufactured to fit your needs, while at the same time fulfilling contemporary demands. High competence, relentless improvement und outstanding delivery performance distinguish us from others and make TELAIR the leading supplier of aircraft cargo loading solutions.
Our highly qualified employees develop customized products for aircraft cargo loading. Whatever you need, we will find the best solution for you. We see the relationship between our company and our customers as long-term and constantly anticipate your needs. At TELAIR we do not simply manufacture the perfect aircraft cargo loading solution for you – we are always one step ahead. This is one of the reasons why we are a leading supplier of aircraft cargo loading systems and our high-quality and innovative products are second to none. Our biggest asset is our outstanding delivery performance. Aircraft cargo loading systems made by TELAIR are always delivered on time and in excellent quality.
How we guarantee outstanding delivery performance
To not only promise but guarantee on-time delivery of our aircraft cargo loading products we get our priorities right. We plan meticulously, communicate proactively and demonstrate perseverance. This ensures that our aircraft cargo loading solutions are always delivered to you as scheduled.
As circumstances evolve steadily, we are always prepared for the unpredictable. For changes that have to be made last minute. Just as our delivery times our response times are above average. Aircraft cargo loading products made by TELAIR can be shipped to every location around the globe. This, among other qualities, makes us the top choice in the business.
Find out more about what makes us the best possible partner for your aircraft cargo loading needs.